Welcome to Effnetplattformen
Effnetplattformen consists of the parent company Effnetplattformen AB and its wholly owned subsidiary Effnet AB. The parent company's strategy is to own and develop technology companies and to use its structure, capital and know-how to assist other companies in going from private to public companies.
Effnet AB develops and sells the Effnet Header Compression product family, which consists of software applications that increase the efficiency, speed, and reliability of Internet Protocol (IP) traffic in fixed, mobile, and satellite networks. Its customers include chipset companies and manufacturers of satellite and telecommunications equipment.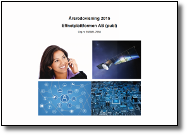 Årsredovisning 2015
2016-12-08: Kallelse till extra bolagsstämma
2016-12-06: Effnetplattformens blivande dotterbolag Samhällsbyggnadsbolaget i Norden AB genomför fastighetsförvärv
2016-12-06: Effnetplattformen bidrar till skapandet av ett nytt starkt fastighetsbolag
2016-12-01: Effnet AB launches Effnet Header & Payload Compression portfolio for Industrial Communications
2016-11-23: Avstämningsdag för utdelning av aktier
2016-11-14: Extra bolagsstämma beslutade om utdelning av aktier
2016-10-28: Effnetplattformen förbereder för notering av Animated Games
2016-10-27: Delårsrapport Januari - september 2016
2016-10-25: Kallelse till extra bolagsstämma
2016-10-21: Styrelsen föreslår utdelning av tre nybildade dotterbolag som avses att användas vid framtida noteringar
2016-09-08: Effnetplattformen förvärvar en större aktiepost i Axxonen Properties AB
2016-08-25: Delårsrapport Januari - juni 2016
2016-07-01: Trio Datacom places additional orders with Effnet
2016-06-16: Effnetplattformen förvärvar 10 % av Animated Games Sweden AB
2016-05-24: Korrigering av omkastade siffror i textbeskrivningen av eget kapital i delårsrapport jan-mar 2016
2016-05-20: Årsstämma i Effnetplattformen AB
2016-05-20: Delårsrapport Januari - mars 2016
2016-04-20: Kallelse till årsstämma den 20 maj 2016
Not:Ändrad adress mot vad som angetts i årsredovisningen.

2016-03-17: Effnet licenses its header compression technology to Inmarsat
2016-02-05: Bokslutskommuniké Januari - december 2015
2016-01-11: Effnet licenses its header compression technology to Trio Datacom, a Schneider Electric company